Worldwide Drilling Productivity Report
by RON PATTERSON posted on JANUARY 26, 2015
The EIA publishes what they call a Drilling Productivity Report in which they claim that each rig is getting more productive, that is each rig produces just a little more oil each month than it did the previous month. But over the long haul, I find that the exact opposite is true. In every place in the world, each rig produces a little less oil every year.
Baker Hughes publishes monthly their International Rig Count where we can find the world rig count back to 1975. However I only looked at the last 15 years and found some surprising results.
The last "Rig Count" data point on all charts below is December 2014. Also, very important, the rig count includes rigs drilling for gas as well as oil since Baker Hughes does not break down international rigs down to either gas or oil. They just give us the total rig count.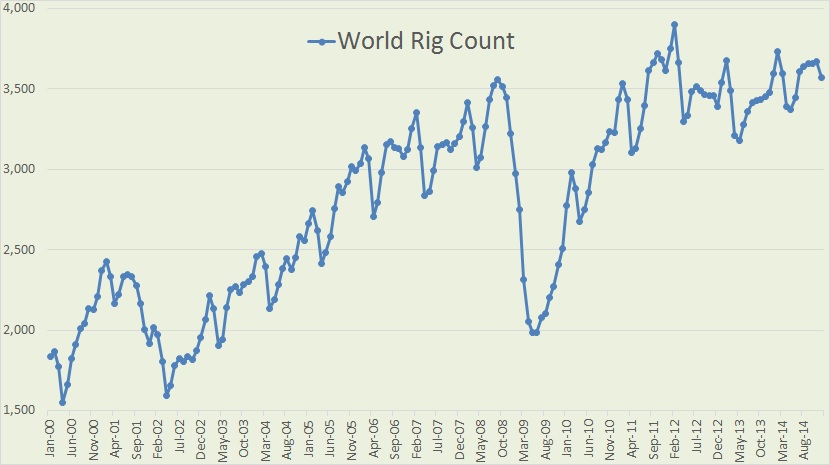 The last price collapse we had, in late 2008, the rig count dropped by over 1,570 between September 2008 and May 2009.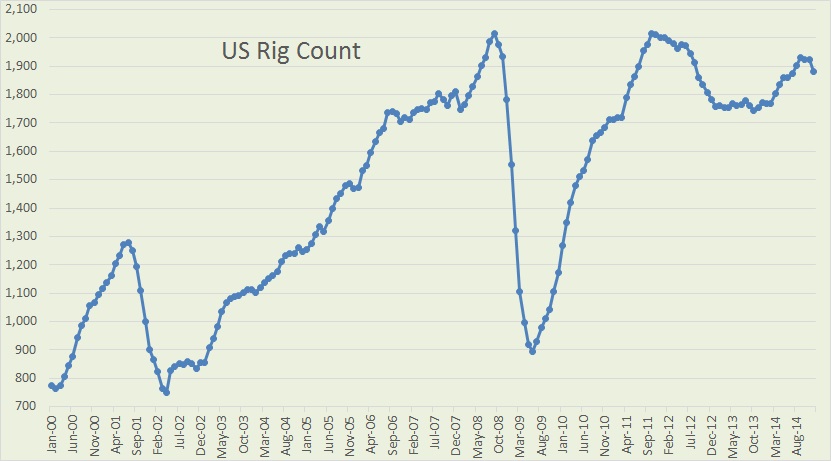 1,114 of that 1,570 rig count decline in 2008 and 2009 came from the US alone. That was the number of rigs dropped by the us between September 2008 and June 2009.
Looking at the first graph up top, World Rig Count, you will see a strange saw tooth that bottoms out every April or May. That is entirely due to the Canadian Rig count.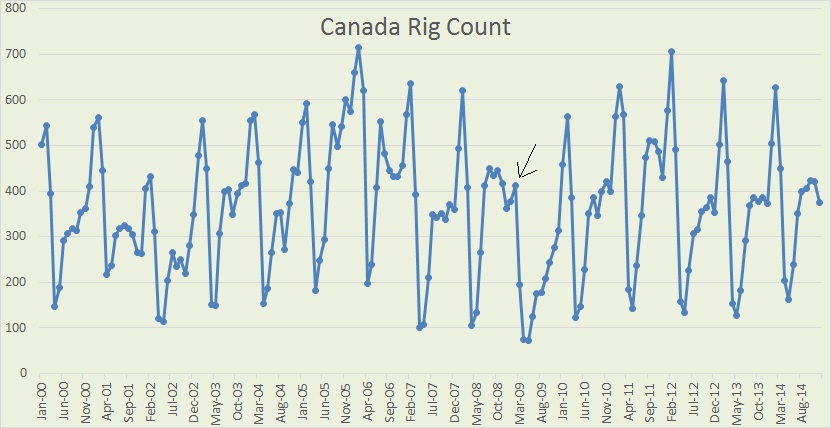 The Canadian Rig Count tops out every February and bottoms out every April and May. The only year in the last 15 years when this did not happen was during the price crash, February 2009, (arrow). I have no idea why the Canadian Rig Count tops out during the dead of winter and bottoms out during the spring thaw, but perhaps that, the thaw, has something to do with it. I hope some kind Canadian will clue us in on why this happens. At any rate, to my knowledge, this is the only country in the world where has this strange oscillation happens.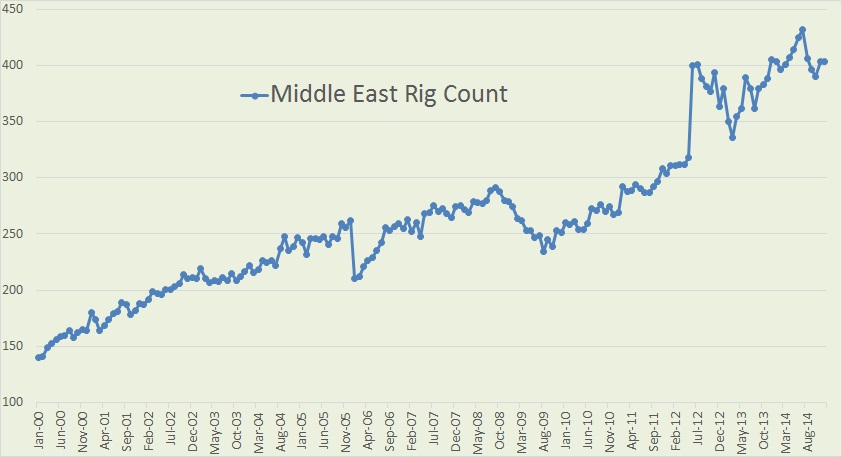 The Middle East Rig Count has gone from 140 to over 400 in 15 years. About half of this increase has come from Saudi Arabia.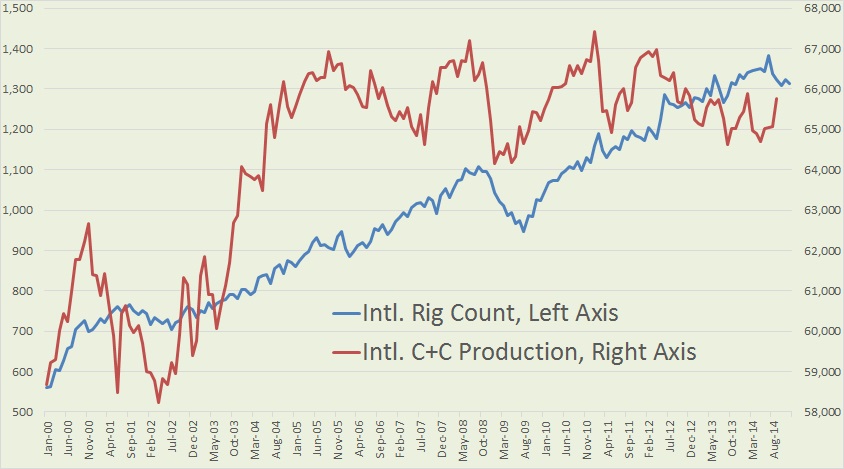 Here I have overlapped the International Rig Count with International Crude + Condensate production. International, in this case, is everywhere except the US and Canada. The point here is that an almost constant increase in the rig count since 2005 has not yielded any increase in production. It is the perfect example of the Red Queen syndrome, it takes more and more wells to stay in the same place.
An overlay of production with rig count however does not give a true comparison between rig count and production. That is because the scales are not equal and therefore no true comparison can be gleaned from such a chart. But they can be compared with simple math. That is you simply divide the average daily production for that year by the average number of rigs for that year.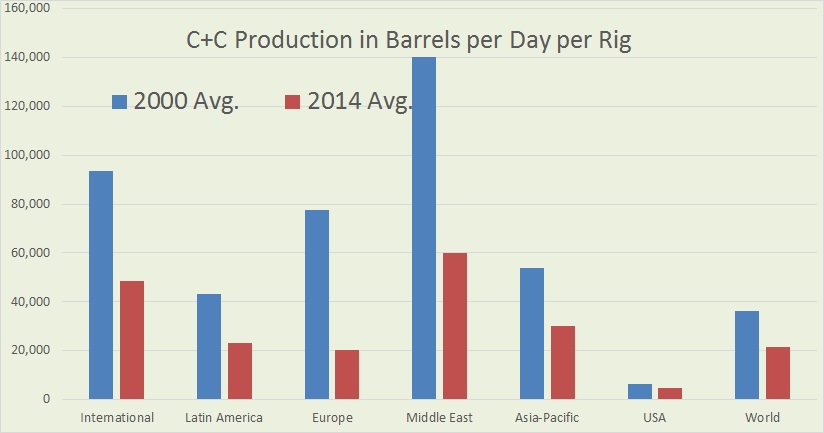 This is production per rig, not production per well. Basically this chart compares what a rig did for you in 2000 as compared with what a rig is doing for you today. Look at as a worldwide Drilling Productivity Report. The EIA says rigs working in US Tight Oil fields are getting more and more efficient. This is due to longer laterals, more fracking stages , more wells per pad and so on. However rigs, overall, are getting less and less efficient. This is due to the fact that the vast majority of rigs worldwide are simply engaged in infill drilling of old wells. So it is only natural that each well will yield a little less oil than the last one.
Below is the data that produced the chart above. The data is barrels per day per rig.

The USA produces 4,577 barrels per day for every active rig while the Middle Ease produces 59,945 barrels per day per rig, down from 140,144 in 2000. Well the reason is we in the USA just don't get nearly as much oil per well as they do in the Middle east. In Saudi, for instance, they drill these long horizontal wells in their supergiant fields, many of the wells MRC, Multiple Reservoir Contact or Christmas Tree wells. Then around the periphery of the field, every few hundred feet, they put a water injection well. And they pump millions of barrels of sea water, every day, into the reservoir. The water sweeps the oil to the well lateral and they produce thousands of barrels per day per well.
Recent data on Saudi Arabia is rather hard to come by but in 2010 they had about 3,270 wells, counting half those in the neutral zone, and they produced about 9.5 million barrels of oil per day. That puts Saudi average production at somewhere between 2,800 and 3,000 barrels per day per well.
At about the same period of time, 2010, the US had about 510,000 wells producing an average on 10.5 barrels per day per well. Today about 400,000 of those wells are stripper wells producing an average of 1.8 barrels per day.
http://peakoilbarrel.com/rig-count-drilling-less-oil/